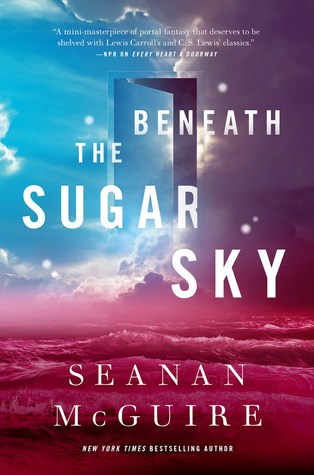 Title: Beneath the Sugar Sky
Author: Seanan McGuire
Genre: Young Adult Fantasy
Series: Wayward Children #3
Goodreads Rating: 4.09/5
Synopsis: Beneath the Sugar Sky returns to Eleanor West's Home for Wayward Children. At this magical boarding school, children who have experienced fantasy adventures are reintroduced to the "real" world.
Sumi died years before her prophesied daughter Rini could be born. Rini was born anyway, and now she's trying to bring her mother back from a world without magic.
What I thought about the book:  I think this one would be 3.5 stars (probably the lowest rating I've ever given a Seanan McGuire book). I just didn't find the story as interesting as the others but it was still very enjoyable.
My Rating: ★★★★☆
"Children have always tumbled down rabbit holes, fallen through mirrors, been swept away by unseasonal floods or carried off by tornadoes. Children have always traveled, and because they are young and bright and full of contradictions, they haven't always restricted their travel to the possible."

― Seanan McGuire, Beneath the Sugar Sky
Wayward Children Series
 Every Heart a Doorway
 Down Among the Sticks and Bones
 Beneath the Sugar Sky
 In an Absent Dream
Synopsis from Goodreads. Photos from my Instagram @elainehowlin_