The first TBR of the year. I plan on reading less this year than previous years so I'm going to make my TBRs about 3 or 4 books and leave the rest to mood reading.
I've picked out two books from series I've already started, one new series and a stand alone novel that I was sent from Poolbeg.
Contemporary Fiction, Stand Alone, Print

Even in death, love survives
Grace Molloy was the darling of the theatre scene. Young and dazzling, she gave it all up to marry the playwright Henry Sinclair, thirty years her senior. Then, one stormy night, she died giving birth to her daughter, Aurora.
Left with no memory of her mother, Aurora is raised by Henry and her nanny, Maggie, in a huge old house on the Cornish coastline. All the little girl has of Grace is a portrait – a painting of a woman in a white dress, her beautiful face frozen in time.
Aurora grows up, resembling Grace in looks and talent. She pursues her dream of being on the stage and soon achieves great success in the world of theatre, like her mother before her. Then a secret unfolds – a secret that could threaten all that she holds dear . . .
Echoes of Grace is the story of a young woman who, having overcome a painful past, must now embrace it to find her real self.
Get the book: Amazon | Book Depository
---
YA Fantasy Dystopia, #4 Arcana Chronicles, eBook
Losses mount and deadly new threats converge in this next action-packed tale of the Arcana Chronicles by #1 New York Times bestselling author Kresley Cole.
When the battle is done . . .
The Emperor unleashes hell and annihilates an army, jeopardizing the future of mankind–but Circe strikes back. The epic clash between them devastates the Arcana world and nearly kills Evie, separating her from her allies.
And all hope is lost . . .
With Aric missing and no sign that Jack and Selena escaped Richter's reach, Evie turns more and more to the darkness lurking inside her. Two Arcana emerge as game changers: one who could be her salvation, the other her worst nightmare.
Vengeance becomes everything.
To take on Richter, Evie must reunite with Death and mend their broken bond. But as she learns more about her role in the future–and her chilling past–will she become a monster like the Emperor? Or can Evie and her allies rise up from Richter's ashes, stronger than ever before?
Get the book: Amazon | Book Depository
---
Paranormal Romance, #18 Immortals After Dark, eBook
This fairy tale doesn't end with a kiss… A spellbinding Immortals After Dark tale from #1 New York Times bestselling author Kresley Cole!
The terrifying king of hell…
As a boy, Abyssian "Sian" Infernas had his heart shattered by a treacherous fey beauty who died before he could exact vengeance. Millennia later, a curse has transformed him into a demonic monster–just as she's been reincarnated. Sian captures the delicate but bold female, forcing her back to hell.
Meets his match.
Princess Calliope "Lila" Barbot's people have hated and feared Abyssian and his alliance of monsters for eons. When the beastly demon imprisons her in his mystical castle, vowing revenge for betrayals she can't remember, Lila makes her own vow: to bring down the wicked beast for good.
Can two adversaries share one happily-ever-after?
As Calliope turns hell inside out, the all-powerful Sian finds himself defenseless against his feelings for her. In turn, Lila reluctantly responds to the beast's cleverness and gruff vulnerability. But when truths from a far distant past are revealed, can their tenuous bond withstand ages of deceit, a curse, and a looming supernatural war?
Get the book: Amazon | Book Depository
---
Hounded by Kevin Hearne
Urban Fantasy, #1 Iron Druid Chronicles, eBook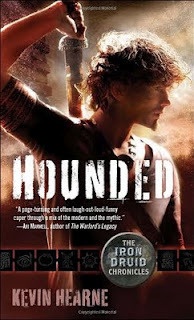 Atticus O'Sullivan, last of the Druids, lives peacefully in Arizona, running an occult bookshop and shape-shifting in his spare time to hunt with his Irish wolfhound. His neighbors and customers think that this handsome, tattooed Irish dude is about twenty-one years old—when in actuality, he's twenty-one centuries old. Not to mention: He draws his power from the earth, possesses a sharp wit, and wields an even sharper magical sword known as Fragarach, the Answerer.
Unfortunately, a very angry Celtic god wants that sword, and he's hounded Atticus for centuries. Now the determined deity has tracked him down, and Atticus will need all his power—plus the help of a seductive goddess of death, his vampire and werewolf team of attorneys, a bartender possessed by a Hindu witch, and some good old-fashioned luck of the Irish—to kick some Celtic arse and deliver himself from evil.
Get the book: Amazon | Book Depository

---
What books are you planning on reading this month?