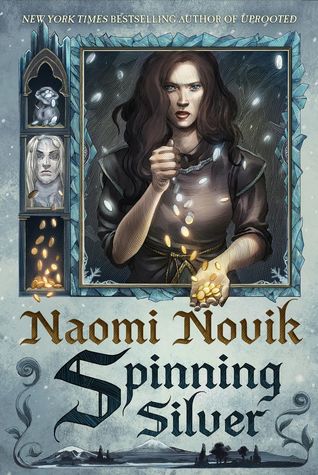 Title: Spinning Silver
Author: Naomi Novik
Genre: Fantasy
Series: n/a
Goodreads Rating: 4.31/5
Synopsis:  Miryem is the daughter and granddaughter of moneylenders… but her father isn't a very good one. Free to lend and reluctant to collect, he has loaned out most of his wife's dowry and left the family on the edge of poverty–until Miryem steps in. Hardening her heart against her fellow villagers' pleas, she sets out to collect what is owed–and finds herself more than up to the task. When her grandfather loans her a pouch of silver pennies, she brings it back full of gold.
But having the reputation of being able to change silver to gold can be more trouble than it's worth–especially when her fate becomes tangled with the cold creatures that haunt the wood, and whose king has learned of her reputation and wants to exploit it for reasons Miryem cannot understand.
What I thought about the book: Maybe 3.5 stars. I had really high expectations for this book cause I LOVED Uprooted but it's a very different book. It had this weird way of boring me and then reeling me again so 50% of the time I really enjoyed it and the other 50% I felt meh.
The changing points of view annoyed me and (with the audiobook anyway) it took me a minute to figure out who was speaking which took me out of the story a bit.
My Rating: ★★★★☆
Synopsis and book cover from Goodreads. Photos from my Instagram @elainehowlin_