Making Christmas, making Christmas
Is so fine

It's ours this time
And won't the children be surprised
It's ours this time
I found this tag on Motherbucker Blog (such a good name!)
---
 Sally – A book with a character who loves someone so much and actually gets them in the end
Well, a lot of romance books would fit this one. Since it's Christmas I'm going to go with a Christmas book, An Ex for Christmas by Lauren Layne. This is a really sweet friends to lovers Christmas romance about a girl who is told by a psychic that she has already met the man she will be with forever so she assumes it's one of her exes. Turns out it's her best friend who's madly in love with her!
She's making a list—and checking it twice. But is there a nice guy among all her naughty exes? The New York Times bestselling author of Blurred Lines returns with a charming friends-to-lovers rom-com.
When a psychic tells spunky, superstitious Kelly Byrne that she's already met her true love, she becomes obsessed with the idea of tracking him down before Christmas. Kelly immediately writes up an "Ex List" and starts contacting old boyfriends to figure out which one is the one. When her college sweetheart rolls into town, Kelly convinces herself that they're meant to be. The trouble is, sparks are flying with someone she's never given a chance: her best friend, Mark.
Mark Blakely has watched the guys on Kelly's list break her heart, and he's not looking forward to watching them do it all over again. Mark's always been there for her, but the timing's never worked out for their relationship to be something more. Now, just as Mark is ready to move on, the sexual tension between them is suddenly off the charts. With Christmas morning around the corner, he just hopes Kelly will wake up and realize that everything she wants has been right in front of her all along.
Get the book: Amazon 
---
Jack – A book with a character who longs for more
I'm not entirely sure how to interpret this one. I'm taking it as someone who feels like there's something missing from their life so I'm picking Touch the Dark by Karen Chance. This is the first book in Chance's Cassie Palmer series which is about a clairvoyant young woman who becomes the supernatural world's chief seer. I picked her for this one because she lost her family at a very young age and ended up alone and on the run from a vampire mob boss. She's left feeling distanced from human connection and loving relationships and she strives to change this as an adult.
Cassandra Palmer can see the future and communicate with spirits-talents that make her attractive to the dead and the undead. The ghosts of the dead aren't usually dangerous; they just like to talk…a lot.
The undead are another matter.
Like any sensible girl, Cassie tries to avoid vampires. But when the bloodsucking Mafioso she escaped three years ago finds Cassie again with vengeance on his mind, she's forced to turn to the vampire Senate for protection.
The undead senators won't help her for nothing, and Cassie finds herself working with one of their most powerful members, a dangerously seductive master vampire-and the price he demands may be more than Cassie is willing to pay…
Get the book: Amazon | Book Depository
---
Zero – a book with a loyal sidekick
I could really say Cassie Palmer for this one too cause she has a very loyal ghost sidekick which is the perfect answer for this one but I'll pick another book. Ok, I'm going with Storm Born by Richelle Mead. This is the first book in Mead's Dark Swan series which is an urban fantasy series that centres on the fae. The main character, Eugenie Markham, is a powerful shaman working as a mercenary. Her sidekick isn't exactly loyal but he obeys orders. She has enslaved a demon to do her bidding who swears he will decapitate her the second he's set free but, hey, he does what he's told. For now.
Just typical. No love life to speak of for months, then all at once, every horny creature in the Otherworld wants to get in your pants…
Eugenie Markham is a powerful shaman who does a brisk trade banishing spirits and fey who cross into the mortal world. Mercenary, yes, but a girl's got to eat. Her most recent case, however, is enough to ruin her appetite. Hired to find a teenager who has been taken to the Otherworld, Eugenie comes face to face with a startling prophecy—one that uncovers dark secrets about her past and claims that Eugenie's first-born will threaten the future of the world as she knows it.
Now Eugenie is a hot target for every ambitious demon and Otherworldy ne'er-do-well, and the ones who don't want to knock her up want her dead. Eugenie handles a Glock as smoothly as she wields a wand, but she needs some formidable allies for a job like this. She finds them in Dorian, a seductive fairy king with a taste for bondage, and Kiyo, a gorgeous shape-shifter who redefines animal attraction. But with enemies growing bolder and time running out, Eugenie realizes that the greatest danger is yet to come, and it lies in the dark powers that are stirring to life within her…
Get the book: Amazon | Book Depository
---
Oogie Boogie – A book with a wicked villain
Ok, I was going to pick a demon or some other devilish bad guy for this but I've decided to go with Written in Red by Anne Bishop. This is the first book in Bishop's The Other's series which follows the mostly preternatural residents of the Lakeside Courtyard. In the world of this series, supernatural creatures are dominant over humans which the humans are not too happy about. This series really shows just how wicked and cruel people can be especially when they're hungry for power.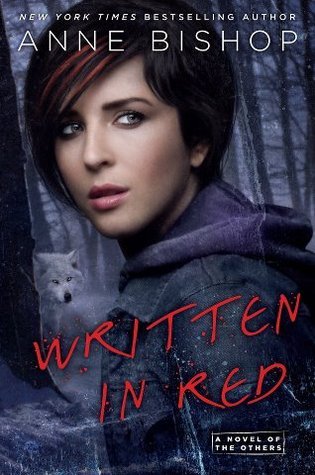 As a cassandra sangue, or blood prophet, Meg Corbyn can see the future when her skin is cut—a gift that feels more like a curse. Meg's Controller keeps her enslaved so he can have full access to her visions. But when she escapes, the only safe place Meg can hide is at the Lakeside Courtyard—a business district operated by the Others. 
Shape-shifter Simon Wolfgard is reluctant to hire the stranger who inquires about the Human Liaison job. First, he senses she's keeping a secret, and second, she doesn't smell like human prey. Yet a stronger instinct propels him to give Meg the job. And when he learns the truth about Meg and that she's wanted by the government, he'll have to decide if she's worth the fight between humans and the Others that will surely follow.
Get the book: Amazon | Book Depository
---
Halloween Town – A book with a weird or creepy theme
Oh, my god, I live by weird and creepy! It took me a while to pick something for this but I settled on The Lesser Dead by Christopher Buehlman. This book is set in 1970's New York and follows a group of vampires who live in abandoned subway systems under the city. It's horror, not urban fantasy and has some of the creepiest vampires I've come across. They are vampire children that terrorize the vampires already in the tunnels.
The secret is, vampires are real and I am one.
The secret is, I'm stealing from you what is most truly yours and I'm not sorry—
New York City in 1978 is a dirty, dangerous place to live. And die. Joey Peacock knows this as well as anybody—he has spent the last forty years as an adolescent vampire, perfecting the routine he now enjoys: womanizing in punk clubs and discotheques, feeding by night, and sleeping by day with others of his kind in the macabre labyrinth under the city's sidewalks.
The subways are his playground and his highway, shuttling him throughout Manhattan to bleed the unsuspecting in the Sheep Meadow of Central Park or in the backseats of Checker cabs, or even those in their own apartments who are too hypnotized by sitcoms to notice him opening their windows. It's almost too easy.
Until one night he sees them hunting on his beloved subway. The children with the merry eyes. Vampires, like him…or not like him. Whatever they are, whatever their appearance means, the undead in the tunnels of Manhattan are not as safe as they once were.
And neither are the rest of us.
Get the book: Amazon | Book Depository
---
Christmas Town – a book that left you feeling all warm and fuzzy inside
This one has to be The Hating Game by Sally Thorne. It gave me all the warm fuzzies! It's sweet and funny and has such a perfect happily ever after ending. If you're ever feeling glum, pick it up!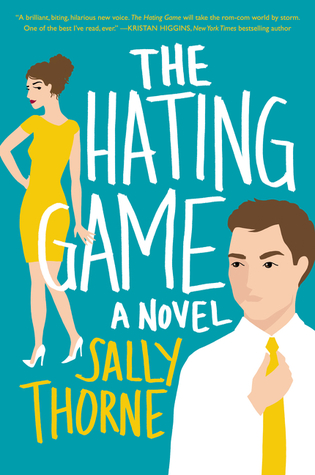 Nemesis (n.)
1) An opponent or rival whom a person cannot best or overcome;
2) A person's undoing;
3) Joshua Templeman.
Lucy Hutton and Joshua Templeman hate each other. Not dislike. Not begrudgingly tolerate. Hate. And they have no problem displaying their feelings through a series of ritualistic passive aggressive maneuvers as they sit across from each other, executive assistants to co-CEOs of a publishing company. Lucy can't understand Joshua's joyless, uptight, meticulous approach to his job. Joshua is clearly baffled by Lucy's overly bright clothes, quirkiness, and Pollyanna attitude.
Now up for the same promotion, their battle of wills has come to a head and Lucy refuses to back down when their latest game could cost her her dream job…But the tension between Lucy and Joshua has also reached its boiling point, and Lucy is discovering that maybe she doesn't hate Joshua. And maybe, he doesn't hate her either. Or maybe this is just another game.
Get the book: Amazon | Book Depository
---
Synopsis and book cover from Goodreads. Images via Giphy