Title: The Princess Bride
Author: William Goldman
Genre: Humor, Adventure
Goodreads Rating: 4.26/5
Synopsis: Beautiful, flaxen-haired Buttercup has fallen for Westley, the farm boy, and when he departs to make his fortune, she vows never to love another. When she hears that his ship has been captured by the Dread Pirate Roberts – who never leaves survivors – her heart is broken. But her charms draw the attention of the relentless Prince Humberdinck who wants a wife and will go to any lengths to have Buttercup. So starts a fairy tale like no other, of fencing, fighting, torture, poison, true love, hate, revenge, giants, hunters, bad men, good men, beautifulest ladies, snakes, spiders, beasts, chases, escapes, lies, truths, passions and miracles.
What I thought about the book:  I was a bit disappointed with this. Goldman tells the story of Buttercup and Westley through the story of a fictional version of himself searching for this book The Princess Bride that his father read to him as a child. His father read only the good bits of the book to him and he says that is what he has presented us with. It's an interesting way to tell a story (inception style) but I didn't like Goldman's character or his constant interruptions. I like how it's done in the movie with the young boy reacting to the story his grandfather is reading him but Goldman's comments annoy me. Other than that the story is very enjoyable and a lot of fun to read.
The movie is better though.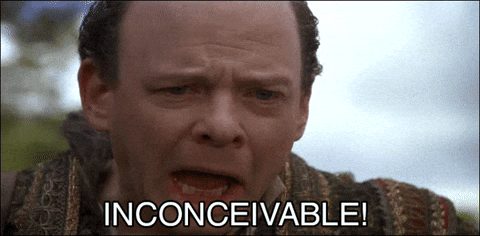 My Rating: 
Synopsis from Goodreads. Photos from my Instagram @elainehowlin_