So I read a fair bit this month and some pretty good books too. I kind of got a bit obsessed with a series I started reading last month. I wasn't very impressed with it then but after reading the second book this month I was hooked!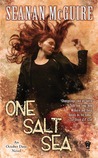 Tempt the Stars by Karen Chance
The 6th book in the Cassie Palmer series. Love it though not as much as previous books. Maybe 4.5 stars. I felt like some of the action scenes were a bit lengthy and the lack of Pritkin annoyed me 😉 Love the introduction of witches and the Pythian court.
 A Local Habitation by Seanan McGuire
I read the first book in the October Daye series in February and, honestly, couldn't see why everyone loves the series so much. I listened to the audiobook and the narrator pronounced Irish words wrong and has a terrible Irish accent. At least I think it's meant to be Irish… Anyway, I was much more impressed with the next book and every book that followed. The narrator is still pronouncing Tuath de Dannan wrong and her Irish accent is still useless but I don't care. The series follows October Daye, a fae halfling who has returned to fae society after a 15-year gap as a mystery-solving knight.
 Tall, Dark & Hungry by Lynsay Sands
A total fluffy read. Great for reading after something heavy or when you're feeling stressed out. It's a straightforward vampire romance.
 Asking For It by Louise O'Neill
Amazing book. So haunting. I have a feeling it will stay with me forever. You can read my full review of this book here.
Join the Howlin Books mailing list and get updates on book reviews, articles, events and videos. Sign up here