I feel like I've been starting every wrap up lately with "So I didn't read much this month" and yeah… I didn't read much this month. I don't know what's going on guys but I've been slow on reading lately. This month I did take an impromptu trip to the Canary Islands so that slowed me down a bit. I've never booked flights and gone somewhere in such a short space of time. My parents were there for three weeks and kept sending me photos of how nice and sunny and warm it was there. So I had a look at flights, found some cheap ones with Ryanair and joined them for a weeks. It was fabulous and I want to go back now!!!
My laptop is kaput so I don't have any pretty pictures of the books this month sadly.
---
I felt like it was shaping up to be a bad reading month but Uprooted took care of that. If you only take one book from this review take Uprooted. It was so good!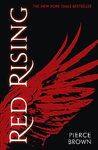 Lady Chatterley's Lover by D.H. Lawrence ★★★★☆
I was surprised by this book. It was a lot more than what I was expecting. I thought it was just going to be a story about a woman's affair with a man of lower class and then they'd run away together. Job done. But I think there's a lot more going on. There's a lot of discussion about class and how poor people can become rich people, and a lot of exploration into the dynamics of romantic relationships and how they evolve.
Sunglasses After Dark by Nancy A. Collins ★★★☆☆
Oh man. Where to start with this one. The thing is there is a really good story here but it got bogged down in lengthy flashbacks and recurring lazy editing. This book came out in 1989 which is fine BUT for some reason it was re-released and modernised in the last few years. Well she attempted to modernise it anyway, all she did was make a mess. The editing is so bad there are sometimes whole sentences repeated with just one or two words changed in it and a lot of spelling mistakes. At one point faces is written as feces. The odd mention of a DVD player to modernise it doesn't effect anything and confused me because I knew this book came out in '89 before reading it. And bumping the current events forward in time messed with the timeline for the flashbacks also making the human characters a lot older than I think they were meant to be.
Red Rising by Pierce Brown ★★★☆☆
It was ok… I had high expectations after reading a lot of reviews for the series but it didn't really reach them. The concept is very interesting and it started out really well but I lost interest during the training segments. The story seemed to just stop. There is a lot of character development during that time but… meh
Uprooted by Naomi Novik ★★★★★
Amazing!!! Absolutely loved it! The synopsis makes it sound like a run of the mill Beauty and the Beast retelling but there is so much more to this story. It is amazing!!
I will definitely be rereading this. I don't want to say too much about it but there are wizards, witches and an evil enchanted forest.
MacRieve by Kresley Cole ★★★★☆
Loved it but I did get a little bit bored near the end. I think it was stretched out just a little too much. Cole has a formula to her romance books so it can get a bit predictable. I think I just wasn't in the right state of mind while reading it (I probably read this one too soon after the previous book). Overall I loved the story and can't wait to find out what happens with Webb and those nasty wizard guys.
Rosemary and Rue by Seanan McGuire ★★★★☆
Awesome! I think this is a series that I will really enjoy.
Not sure about the audio though… The narrator is fine when doing Toby's voice but everyone else sounds weird and often whiny. She pronounced a few Irish terms wrong which annoyed me a bit. Surely wouldn't hurt to check before recording how to say something, would it?
All of the books mentioned are available from Book Depository with free worldwide shipping.
Follow me on Social Media