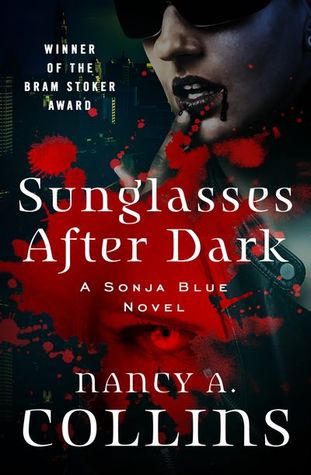 Title:
Sunglasses After Dark
Author: Nancy A Collins
Genre: Urban Fantasy, Horror
Series: Sonja Blue #1
Goodreads Rating: 3.9/5
Synopsis: One spring night in London, heiress Denise Thorne disappears while partying at a nightclub, never to be seen again. That very same night, Sonja Blue, a tough-as-nails punk vampire/vampire-slayer, conceived in terror and blood, is borne from the city's gutters. Saved by modern medicine before she could die, she is a living vampire who still possesses a soul and is determined to fight for what remains of her humanity. In the years since her bizarre resurrection, Sonja Blue travels the globe, hunting down and disposing of those creatures that prey on the innocent while searching for the vampire Noble who created her. But when she investigates a sleazy televangelist named Catherine Wheele, who is exploiting Denise Thorne's parents, Sonja finds herself up against a powerful inhuman adversary. But as dangerous as Catherine Wheele proves to be, Sonja's greatest foe remains the Other, the demonic personality with whom she is locked in a constant battle for control of their shared body. Can Sonja Blue overcome her inner demon in time to rescue an innocent man from Catherine Wheele's unholy clutches?
✯     ✯     ✯     ✯     ✯     ✯     ✯     ✯     ✯     ✯     ✯     ✯     ✯     ✯     ✯ 
What I thought about the book: It was ok.
I wasn't aware before reading that the author had edited newer versions of the book. It kind of ruined the flow of the story for me. I knew the book was published in the late eighties and then came across mention of a DVD player which confused me. So I looked up some reviews on Goodreads to find out what was going on. There was also a lot of typos as well. Sometimes whole sentences were repeated with minor changes in the second sentence.
***SPOILERS BELOW***
The beginning was very strong but it teetered out in the middle during the flashbacks. Although Sonja's were very interesting the editing to bring the novel into modern day created a decades-long gap in time. It would make the mortals mentioned older than I think they were intended to be as well.
Catherine's flashback sequence was frustrating to read after the childhood scene when she discoveries her abilities. I found it slowed the novel's momentum quite a bit especially since it came so soon after Sonja's flashback. At that point, we're retracted from the main plot for a large portion of the book.
I liked the ending, though, it was suitably dark and dramatic.
✯     ✯     ✯     ✯     ✯     ✯     ✯     ✯     ✯     ✯     ✯     ✯     ✯     ✯     ✯
My Rating: