September was a bit of a shit month. I had a family emergency which took me away for about 11 days. Everything is ok now and on the plus side, I had lots of family time 🙂 But I got very little reading done, pretty much everything here I read at the beginning of September.
Books Read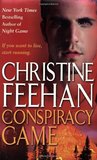 Highlights

I was really surprised by how much I liked this series. I didn't expect to get as sucked into them as I did. I'm not going to get into what these are about since with the movies and series being so popular I think everyone has an idea of the story. I'll just say I read all 3 in about 4 days and I saw the movies first and enjoyed them just as much as the books.

This is a reread, I love this series! This is the 5th book in Karen Chance's Cassie Palmer series following time-hopping clairvoyant Cassie as she battles gods, demons and over-bearing boyfriends. This one is probably my favourite, there's a lot of insights into Cassie's family and my favourite character, Pritkin. There's also some of the best action scenes in this one and I think Chance manages just the right mix of action and story here.

Ross Poldark has just returned from warring in America to discover his father has died, his love has moved on and his home has gone into ruin at the hands of drunk servants. He has no chance but to start again reopening his family's mine and attempting to move on. Very good book.
---
So that was it for September I've already read more in October and we're only 10 days in! I'm visiting my family again this month and I'm determined to get as many books in as possible before I go!
Till next time guys x