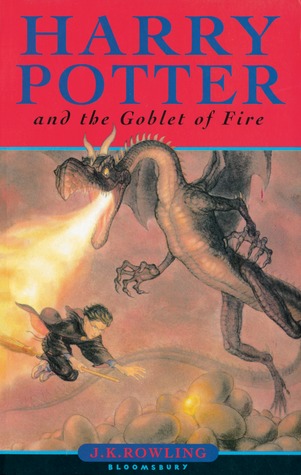 Title: Harry Potter and the Goblet of Fire
Author: J.K. Rowling
Genre: Young Adult Fantasy
Series: Harry Potter #4
Goodreads Rating: 4.52/5
Synopsis:
The summer holidays are dragging on and Harry Potter can't wait for the start of the school year. It is his fourth year at Hogwarts School of Witchcraft and Wizardry and there are spells to be learnt and (unluckily) Potions and Divination lessons to be attended. But Harry can't know that the atmosphere is darkening around him, and his worst enemy is preparing a fate that it seems will be inescapable …With characteristic wit, fast-paced humour and marvellous emotional depth, J.K. Rowling has proved herself yet again to be a master story-teller.
✯     ✯     ✯     ✯     ✯     ✯     ✯     ✯     ✯     ✯     ✯     ✯     ✯     ✯     ✯ 
What I thought about the book: (I find it so hard to review Harry Potter…so many people have read them and have already formed their opinion it kind of seems pointless…) Amazing book!! We get a bit of fun with the tournament and then it all kicks off. The books get darker and much more serious from here.
When I read the books for the first time, this was my least favourite. I didn't like the Triwizard Tournament and I was shocked by the character death. I enjoyed it a lot more this time. There's so much foreshadowing in the books I never noticed before.
✯     ✯     ✯     ✯     ✯     ✯     ✯     ✯     ✯     ✯     ✯     ✯     ✯     ✯     ✯
My Rating: 
---