I've seriously been lacking in the reading department lately. I read some interesting books last month but didn't read anywhere near as much as I usually do.
This month I want to read at least 10 things and maybe finish some DNF's from last month.
Books I Started in March

 Wintersong
 Rajmund
 Venom
 The Great Gatsby
 The Complete Persepolis
 Bloodfever
 The Historian
 Midnight's Daughter
New Reads for April
 Kushiel's Dart
 The Force of the Wind
 Hard Bitten
 Heart of Steel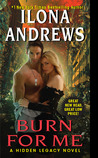 Burn for Me
 Lover Avenged
Other Plans for April
I'm taking part in two bookish Instagram challenges this month which means I will be posting more than usual. So far it's been fun. I plan to post daily here as well and get my youtube channel going properly.
---
What's on your TBR for April? Are you taking part in any challenges?