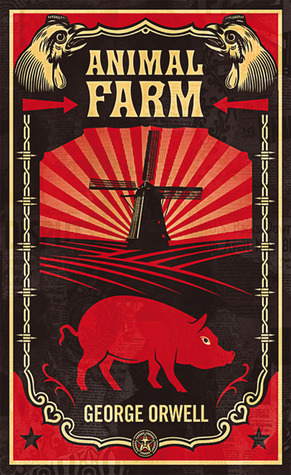 Title:
Animal Farm
Author: George Orwell
Genre: Literature
Series: n/a
Goodreads Rating: 3.86
Synopsis: 
"All animals are equal. But some animals are more equal than others."
One night on an English farm, Major the boar recounts his vision of a utopia where his fellow creatures own the land along with the means of production and are no longer the slaves of humans.
Before long his dream comes true, and for a short while all animals really are equal. But the clever pigs educate themselves and soon learn how to extend their own power, inevitably at the expense of the rest of the community.
This well-loved tale is, of course, a satire on the Soviet Communist system that still remains a powerful warning despite the changes in world politics since "Animal Farm" was first published.
This production is based on Orwell's own radio version which was first produced in 1947.
✯     ✯     ✯     ✯     ✯     ✯     ✯     ✯     ✯     ✯     ✯     ✯     ✯     ✯     ✯ 
What I thought about the book: I think I knew too much about this book before I read it. I found it boring and predictable when it should have been interesting and full of meaning.
I am glad I read it though. It's something everyone should read I think.
✯     ✯     ✯     ✯     ✯     ✯     ✯     ✯     ✯     ✯     ✯     ✯     ✯     ✯     ✯
My Rating:
---
I discovered Thug Notes recently, they are awesome!!! Check out their video on Animal Farm.