How about a quickie?…
I love reading novellas and short stories, especially if I've just read something really long. They're great for getting over reading slumps, filling in time between books or for when you want some instant gratification… And they're great as a taster to a particular genre.
I love reading novellas and short stories, especially if I've just read something really long. They're great for getting over reading slumps, filling in time between books or for when you want some instant gratification… And they're great as a taster to a particular genre or series.
100 – 200 pages
Set in Brook's Iron Seas universe, this prequel follows Mad Machen and his love interest Ivy as they journey across the sea and he tries to win her heart. It's an Enemies to Lovers story  (love those!) and despite its short length the characters are very strong and well developed, as is the relationship between the characters. There are one or two things in the book that may not make sense if you haven't read The Iron Duke (which you should definitely read) but they only have a small effect on the story and don't spoil future books.
Another prequel, set in Showalter's Lords of the Underworld series (if you haven't started it, get to it!). This is more of a Friends to Lovers story (or 'person I know but don't talk to' story) following Geryon, the Guardian of Hell, and Kadence, the Goddess of Oppression. Set a long ass time before the series, we meet the characters at their post by the gates of hell and join them on their little adventure inside. Very quick read at about 66 pages and it doesn't spoil a thing for the series. If you're contemplating giving Lords of the Underworld a read but not sure, this is a fun story for a taster. My only issue with this one was that I thought it was really weird when the characters had sex…not that the sex was weird, just did not seem like the time or place for that kind of activity.
This one is set a bit later in the series but it's spoiler free (I think…) Anyway, it's a great story. Another Enemies to Lovers one that's a lot of fun to read. Set in Tartarus and tells the story of Atlas, the Titan god of Strength, and Nike, the Greek goddess of Strength and Victory. These two have had quite the interesting relationship over the many many years their lives have been entwined. Nike is an awesome character, one of Showalter's best.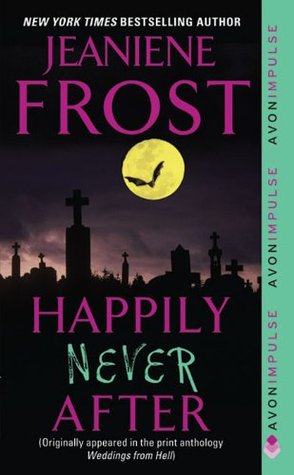 I had a lot of issues with Frost's Night Huntress series when I first read it. I couldn't put my finger on what it was that I didn't like but after reading this I think it's the commando stuff I dislike. This story is set in the Night Huntress world and Bones makes an appearance at the beginning but this has no effect on the main series storyline. We follow new character's Chance and Isabella as they try to save Isabella's brother from the mafia. In true Frost style, this story is exciting with plenty of action.
Oh, how I love Kresley Cole!! This novella was my introduction to her writing and it was love at first sight (or bite heh heh). Enemies to Lovers again here, which is a common trope in Cole's books but it's all good cause they're fun to read. Here we follow the vampire warlord Nikolai and the seductive valkyrie Myst as they play a little game of cat and mouse with tantalising results. This is a bit of a raunchy one, just to warn you.
Grizzly by Bonnie Bliss 154pages
This is kind of an Indie book written by a husband and wife writing team. It's also pretty dang dirty! Perfect if you want something a bit steamier for your Valentine's. Here we follow Sorscha and her bear shifting bodyguard Tethur as they battle orcs and get it on when they can. It's a pretty fun story. Sorscha is a bit of a geek, I love the references to geeky shows and movies. Tethur is a bit overbearing (badum tish) but Sorscha is well able to deal with him.
200 – 250 pages
I don't often read contemporary romance and when I do, I don't often finish it. This one I enjoyed right to the end! It's a familiar Friends to Lovers story. Girl and guy are besties, guy sleeps with all the ladies, girl breaks up with boyfriend and asks guy to help her pick up dudes for casual liaisons. It's been done to death but it works! It's fun and easy going, perfect for Valentine's. Hmmm, I might reread this one myself for Valentine's day…
This one is a bit of a rollercoaster emotionally. It may make you cry. It sure made me cry! It's tagged Young Adult on Goodreads but I wouldn't recommend it to anyone under 16. I'd say it's more New Adult although there is a teenage romance at the beginning. We mainly follow Nell and her relationship with her first love, Kyle, and later, his brother, Colton.
"This book is for anyone who has ever lost a loved one, for anyone who has woken up crying and gone to bed the same way, for anyone who has had to learn that it's okay to not be okay. Surviving isn't strength, it's continuing to breathe one day at a time; strength is learning to live despite the pain." – Jasinda Wilder
Series Short Stories
These ones should be probably be avoided if you haven't been reading the series they belong to. I wanted to include them cause they're great stories. I'm not going to talk much about the plot of each cause it's hard to mention what happens without spoilers and you should only read them if you're into the series.
The Darkest Angel (Lords of the Underworld) by Gena Showalter 118pages
This is one of my favourite books in Lords of the Underworld. Should be read after book 4. The romance between Lysander and Bianka is a lot of fun. Bianka is another awesome leading lady by Showalter.
Curran POV's (Kate Daniels) by Ilona & Gordan Andrews 157pages
How could anyone not fall in love with Curran?? This collection shows Curran's point of view during several integral moments during Kate and Curran's developing relationship. Should not be read before books 1 – 4.
A Family Affair (Cassie Palmer) by Karen Chance 46pages
This is a short story from Pritkin's POV. Cassie isn't in this one much. We learn so much about Pritkin's character in this. If you're on team Pritkin, this is a must! Should not be read before books 1-4.

Shadowland (Cassie Palmer) by Karen Chance 54pages
This is a continuation of the previous short story, A Family Affair. More Pritkin time woohoo!!
Father Mine (Black Dagger Brotherhood) by J.R. Ward 91pages
Zsadist *swoon*. You should not read this before books 1-6. This story is so sweet! Zsadist is going to pull on those heartstrings yet again.
The Day of the Dead (Cassie Palmer) by Karen Chance 52pages
You could actually read this one without reading the Cassie Palmer series but it's helpful to have some background on Thomas. Really quick fun story.
What I'm Reading
I have mostly urban fantasy planned for this month with one or two romances. I might throw in a reread of Blurred Lines but I'll most likely read one of the planned ones. Which are…
I decided to read this book because of the cover. I mean, look at it!!! It is so damn cheesey, I HAVE to read it!!! I don't even know what it's about! I'm guessing pirates…
Pride Mates by Jennifer Ashley
I love shapeshifter romances!! This one was recommended to me by a member of my book group (can't remember who, sorry). I've read one of Ashley's historical romances, The Madness of Lord Ian MacKenzie, and it was brilliant! I recommend it if you like historical romance. It'll be interesting to see how she does paranormal romance.
Well that's it! I ended up talking about way more books than I had intended to. Hope you didn't get bored!
If you decide to read any of these or you have already, I would love to hear what you think of them. And I would love to hear about what books you're reading this month as well.